Two of my favorite things in one: pizza (which I could eat everyday) and grilled cheese - yum! When I discovered this
Pizza Grilled Cheese
at Forkful of Comfort, I wondered why I hadn't thought of it before - genius! There are endless possibilities ... different meats, different veggies, a mix of cheeses! We adored this and I hope that you will too!
Check out some of the other awesome grilled cheese finds in this month's
Mom's Crazy Cooking Challenge!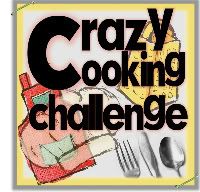 Best dishes and yummy dreams!
xoxo,
slices of bread (I used Ecce Panis, Country White)
melted, unsalted butter
slices of mozzarella, or your choice of cheeses
sliced pepperoni, or prosciutto
spinach, any other diced veggies
dried oregano
pizza, or pasta sauce for dipping
1. Spread the slices of bread with the melted butter (on one side).
2. Place one slice of bread buttered-side down in a heated pan.
3. Add the cheese, meat, oregano, and veggies.
4. Top with another slice of bread (buttered side facing up).
5. Toast one side, then flip the sandwich and toast the other side until the cheese is melted.
6. Heat the pasta sauce and serve with the sandwich for dipping.
Thanks for reading! xo