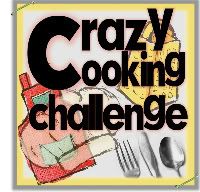 I
LOVE
soup. I'll eat ...and enjoy... just about any broth-based soup. No canned soup though, it never tastes right. I was so excited that
Mom's Crazy Cooking Challenge
for the month of January was Chicken Noodle Soup! Love. I found this awesome blog:
Closet Cooking
, and a very interesting twist on Chicken Noodle Soup. I've never cooked with miso, and as a matter of fact, I couldn't
find
miso paste
anywhere
. So, I improvised and used miso soup ... just adding it to the chicken stock. It worked beautifully; the soup had a subtle miso flavor mixed with all of the wonderful traditional chicken soup flavors. I didn't make my own stock, like he did in the original recipe, and it was still amazing! I highly recommend this little twist on a simple chicken noodle soup - you will love it!
1 rib of celery, diced
1 carrot, diced
1 onion, diced
2 cloves of garlic, minced
olive oil
1 sprig of fresh thyme
1 bay leaf
4 c. of chicken stock
the broth from a single-serving packet of miso soup (after prepared according to directions)
(OR 2 tbsp. of miso paste dissolved in chicken stock)
1 tsp. black pepper
1 tbsp. parsley
2 c. shredded rotisserie chicken
prepared egg noodles (store them separately)
1. Saute the celery, carrot, and onion in a pan with the fresh thyme and olive oil until veggies are tender. Add the garlic at the last minute.
2. Add the veggies to a slow cooker, along with the bay leaf, chicken stock, miso, pepper, and chicken. Turn the slow cooker on low and cook as long as possible. (I cooked mine on low for 8 hours)
3. Keep the noodles separate from the soup so that they don't get soggy. Just add the soup to a bowl of noodles before eating!
If you enjoyed this recipe, I'd love for you to "like" my Facebook page, follow me on GFC, or pin my pictures! Thanks a million! xoxo