Fudge isn't my
thing
. I don't know - I love sweets, but I just can't get into fudge. I think it's
too
much in a little package. However, I
love
the
Crazy Cooking Challenge
because it gives me the opportunity to find new, super-awesome blogs to follow... and to try some new recipes!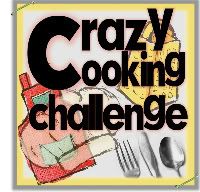 When I found out that the recipe this month was fudge, I decided to go with something that represented the holiday (peppermint), and I thought dark chocolate might be nice way to cut down on the overly-sweet quality (
and
dark chocolate is my husband's favorite!). When searching for a great recipe, I found this blog that I absolutely love now:
A Spicy Perspective
. It's adorable - check it out!
My husband loved the fudge, it was easy to make, it looks beautiful.... and I
liked
it. I would gladly make it again.
Best dishes and yummy dreams!
xoxo,
1 - 14 oz. can of sweetened condensed milk
1 tbsp. of butter, plus extra for greasing the baking dish
1 pound of dark chocolate chips/chunks
1/4 tsp. salt
1/4 tsp. peppermint extract
1 tsp. vanilla extract
Peppermint candies, crushed
Grease an 8*8 dish and place a layer of crushed peppermint in the dish. Set aside.
1. Place milk and butter in a glass bowl. Place the bowl over about 2 inches of simmering water in a pot (making sure the bottom of the bowl doesn't touch the water). Heat ingredients thoroughly.
2. Add the chocolate and salt. Stir until the chocolate is like a thick cake batter that still pours.
3. Add peppermint and vanilla. Pour the fudge into the greased dish.
4. Top the fudge with the rest of the crushed candy.
5. Refrigerate for at least 3 hours before cutting with a warm, clean knife.

If you enjoyed this recipe, I'd be super-excited to have you as a friend on Google FriendConnect, or ESPECIALLY on Facebook! xoxo